Kiss Family (eleméri and ittebei)
According to the authentic documents the family originates from Erzsébetváros in Transylvania (Torontál County), where it had a prestigious name in civil and commercial fields. The family are descendants of the Armenian Ákoncz family. The family surname was acquired precisely because of the short stature of its members. (Kiss in Hungarian means small) The language of the family at the time, according to surviving documents, was still Armenian. The Kiss family gained considerable merit by their offers of military aid during the Prussian campaigns and won Hungarian nobility (Elemér and Ittebei) including a coat of arms from Queen Mária-Terezia (Sovereign of the Habsburg family which ruled over Austria, Hungary, Croatia, Bohemia, Transylvania). This nobility was proclaimed in 1761 in the county of Csanád, where already at that time the family were leasing a large estate.
Izsák's son Ágoston had three children – Gergely, Mária and Ernö. General eleméri and ittebei Ernö Kiss (Kishian in Armenian) was one of the Arad Martyrs of 1949. (See details of Ernő's role in the revolution against the Austrian Empire on our page "Arad '). That branch of the family had no male descendants. Our branch of the Kiss family are from the descendants of Miklós.
The coat of arms is a shield divided vertically into two halves, on one half a black eagle is visible on the other side the blue courtyard is divided into two parts by a horizontal white line, in the upper part three golden stars shine, in the lower part a golden lion can be seen in a leaping position. On the crown of the helmet above the shield, an arm is flashing a drawn sword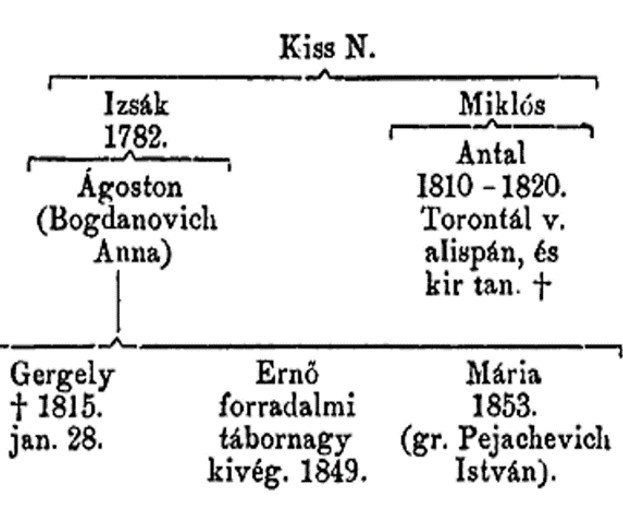 Miklós Kiss de Elemér et Ittebei (1852-1909) was the brother of Elemér Kiss (father of our grandmother). He married Katharina Maria Schratt a famous Austrian actress. She became Franz Joseph's companion and was known as "the uncrowned Empress of Austria". It is said that Franz Joseph's wife Empress Elisabeth actually encouraged the relationship between the actress and the Emperor. Schratt and her husband separated due to their incompatibility. The Emperor however gave Miklós the Hungarian title of Baron.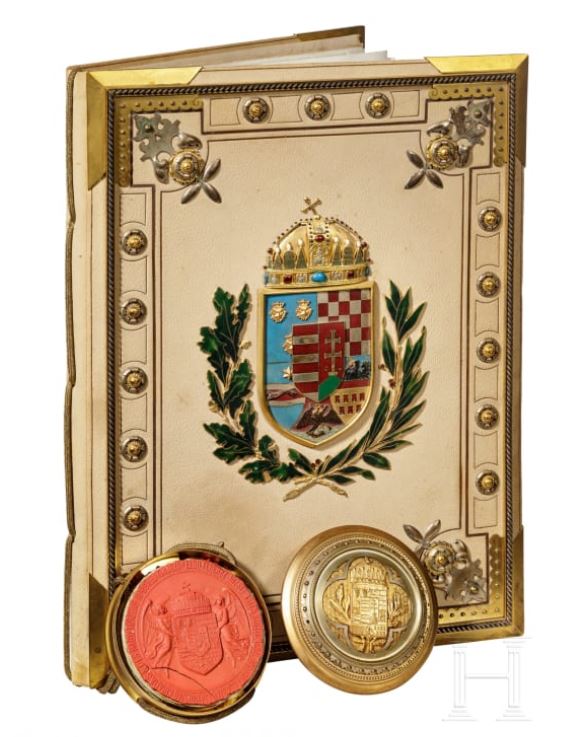 József Kiss de Elemér et Ittebei (1896-1918) was a World War I flying ace for the Austro-Hungarian Empire. He was credited with 19 aerial victories. He was the most successful Hungarian ace in the war. Kiss's father was a gardener at the Pozsony military academy. He is reported to be related to Lieutenant-General Ernő Kiss, one of the 13 Martyrs of Arad who were executed in 1849. This relationship has not been proven and in fact some evidence exists that it is unlikely. His story is worth reading. When the Austro-Hungarian Empire declared war against Serbia, Kiss promptly dropped out of school and enlisted in the 72nd Infantry Regiment of the Austro-Hungarian army despite the fact that his truncated education would keep him from the officer's ranks. On 26 October 1914 he went into action against the Russians in the Carpathian Mountains. He was severely wounded there, and sent home to convalesce. While on convalescent leave, he became interested in the Austro-Hungarian air service. He applied, was accepted, and trained at Wiener-Neustadt. Kiss' personal aircraft was painted black with a large white 'K' on either side of the fuselage, and he would wield it with a courage bordering on recklessness. He was seriously wounded again in late January 1918 but returned to duty only two months after having some of his bowel surgically removed. His last victory was on 28 January 1918. He flew without any further triumphs until he was killed in action on 24 May 1918 by Lt. Gerald Birks of No 66 Squadron. His final tally of 19 included at least seven enemy aircraft forced down and captured and 9 victories shared with other pilots